If you are looking to provide your customers with the utmost convenience when it comes to their home security, look no further than leading security specialist, Burg-Wächter. Its range of Sterling door and window security products are the perfect solution for anyone looking to open all doors with one key.
One key for all doors
It can be a hassle having so many keys that open different doors, and the inconvenience of having to keep track of where all the keys are stored. For customers wanting to avoid this problem, they can get keyed alike locks for their front, back and even conservatory door, meaning they can open all of their house doors simply using only one key.
3 star security for peace of mind
A keyed alike suite is easy to set up with Sterling's DoorMinder 1 Star cylinder. Independently tested and certified by BSI, they are designed to provide a high level of security with enhanced protective features. Anti-drill hardened pins prevent drilling attacks while anti-pick mushrooms stop attacks from picking and manipulation. They also feature plug extraction protection and an anti-bump mechanism. The cylinder boasts the police-recommended snap-safe mechanism that ensures the door remains firmly locked, even if a burglar attempts to snap the cylinder in two. All of these features are enclosed cleverly inside a solid brass body, giving this cylinder an exceptional level of security. Pair the DoorMinder 1 Star cylinder with a BSI 2 star approved handle for 3 star security for all doors to give complete peace of mind to your customers.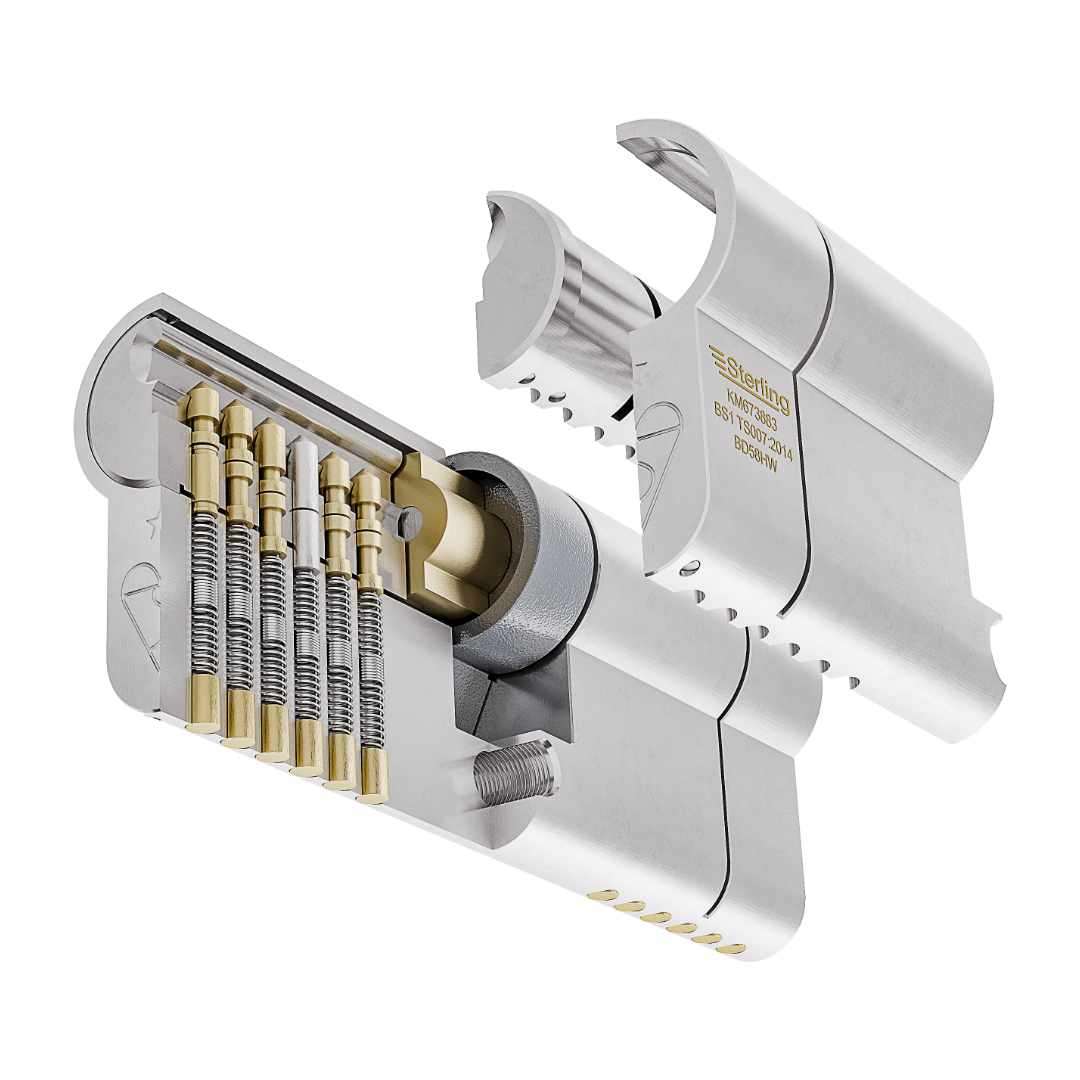 Additional security to give homes top-level protection
Multiple points of locking are recommended for doors and windows to offer an extra layer of protection and ensure the maximum amount of time and effort that would be required to break-in to a property, making it more likely a thief is caught in the act.
Patio door and window locks
The range of patio door and window locks are suitable for most windows, and hinged and sliding doors, with a universal lock for patio doors. Easy and convenient, simply push the lock to lock it and use the key to unlock it. Security fixing screws are included with the locks which are easy to fit and can be surface or flush mounted. The locks are available in satin nickel, brass or white finishes. Sash jammers are another simple yet effective solution for doors and windows, including uPVC - offering a simple rotating catch mechanism that blocks the door or window from opening until it is slid into the open position.
Multi-purpose door bolts
This locking bolt adds increased door security and is suitable for metal or wood hinged and sliding doors. Simple to use, the bolt is reversible and has concealed fixings and an optional ventilation position. It comes ready for surface or flush mounting and is available in satin chrome, white or brass.
Give your customers the most convenient all around home security solution tailored to suit their needs with a wide range of solutions from Burg-Wächter & Sterling.